Amphibians are animals which can live in the water when they are young and then live on land when they are an adult. They have backbones. The different types of amphibians are the Frogs, Salamanders and Caecilians. Caecilians have no legs, and look like worms! A toad is actually just a special type of frog. Amphibians are cold blooded creatures. There are about 6500 species of amphibians.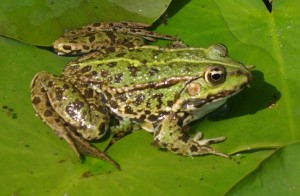 Unfortunately, in the past few decades, the number of amphibians in the world has been going down. Many of the species are now threatened or extinct due to habitat destruction, illegal hunting, pollution, climate change and diseases.
Amphibians live in various environments, but most species need to have freshwater habitats such as swamps, ponds, rivers, streams or other wet places for laying eggs. Amphibians are relatively easy prey to hunt. They do not have venomous bites like the cobra or sharp claws like an eagles. They feed on insects, spiders, worms, small fish, small reptiles and even on smaller amphibians.
An Amphibian's body temperature changes according to the surrounding temperature. They change their colour to adjust their body temperature. For example, they are able to switch to a darker colour when they need to absorb more heat. Isn't that amazing? They are more active during warm days and are able to hunt better in summer then in winters. The cold weather makes them inactive. By changing their colour, they are able to camouflage themselves and escape from their predators.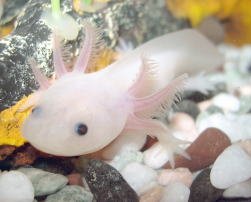 They come in different sizes. The biggest amphibian of all is the Chinese Giant Salamander which is 180cm (6 feet) long. Some of the smallest are the Brazilian Gold frogs, which are only 9.8mm long (0.4 inches). Frogs range from about 1cm to 33cm long (0.4 to 13 inches) while salamanders are longer, ranging from about 2.7 to 180cm long (1 inch to 6 feet). Caecilians are about 7 to 150cm in length (3 inches to 5 feet). The biggest frog is the Goliath Frog which is 33cm long (13 inches), and the biggest caecilian is Caecilia Thompsoni which is about 150cm long (5 feet).
Amphibians have a soft, smooth slippery skin. Their skin allow gases and liquids to pass through. Therefore, they can actually breathe through their skin! Isn't that interesting! For example, salamanders have porous skin that enables them to absorb oxygen and water through their skin. Although some amphibians, such as baby tadpoles, breathe with gills, as they grow older they develop lungs to breathe. They still depend on their skin for additional oxygen. They do not drink water – they can get all the water they need by soaking it up through their skin.
Most amphibians have glands in the skin which produce poisonous toxins to defend themselves against their predators. One famous example is the Poison Arrow Frog. They have a long sticky tongues to catch insects. Caecilians kill their prey quickly with their sharp teeth.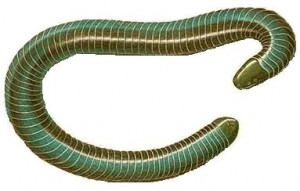 Most adult amphibians have teeth like the caecilians.  Frogs only have teeth on the upper jaw – they do not have teeth on their lower jaw – so they usually swallow their food whole like a snake. They use their teeth to hold onto their prey and not to chew. However, some species do not have any teeth, for example, the African Clawed Frog.
Almost all amphibians lay their eggs in the water. However some frogs, salamanders and caecilians lay their eggs in moist places such as cracks or burrows in the ground.  Almost all frogs lay their eggs in the water and the eggs hatch into tadpoles which live in the water. The eggs of amphibians are protected by a special kind of jelly. They breathe with their gills and swim using their tail. As they grow older, they lose their tail, they use lungs for breathing instead of gills and they grow 4 strong legs for jumping.
Caecilians have small eyes which are covered by skin for protection. That is why many people think that they are blind – their sight is limited but they are not blind. They have a pair of tentacles which is located between their eyes and nostrils. These tentacles help them to smell better.